Late Summer Garden Glory
"The glory of gardening: hands in the dirt, head in the sun, heart with nature. To nurture a garden is to feed not just the body, but the soul." – Alfred Austin.
In early September, I went outside to work in the garden. A clouded, dewy morning greeted me. It was already 70 degrees out. No wind. Too early for neighborhood mowers to cut the silence or Hemi's to rumble into the peace. I was alone in the silent light of the season's colorful, full-scented offerings.
Our garden was a tish past prime. The leaves on the green bean and towering tomato plants were turning brown. Still, dozens of new cherry tomatoes appeared each day. We'd already made salsa, spaghetti sauce, and dried cherry tomatoes the day we picked another 18 pounds of tomatoes.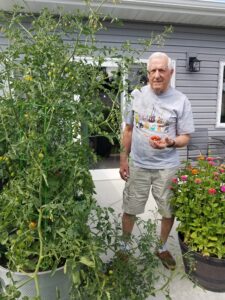 This morning, I took out a strainer and filled it with green beans. What a wonder! From a small handful of seeds, the plants quickly outgrew the poles and fences we put up for them to climb. The beans came early and bountiful, and then they quit producing. The tops of the plants held hundreds of blossoms for a week, two weeks, three weeks. Would they ever deliver more beans? Then one morning, four-inch, five-inch, six-inch beans hung ready to be discovered and picked.
The glory of gardening is stepping into the house with green bean blossoms sprinkled in your hair and on your shirt, and a strainer full of beans in your hand. Unless you've reach into the viney depths of a bean patch, you might not know their leaves stick like Velcro to your clothes, or that a passel of beans can remain cleverly hidden right before your searching eyes.
For weeks, we watched swallowtail butterflies and honeybees frequent the zinnias which were in a tub right outside the back door. Sometimes finches flitted in and snitched petals from the flowers. What great entertainment for the price of a packet of seeds and a watering hose.
 "Gardening is cheaper than therapy and you get tomatoes." – Anonymous
One day I went to check on the flowerpots lined up in front of the house. I was wearing a cotton t-shirt with a row of flowers across the front. Suddenly something flew at me, zipped around me and went back to the flowers. A hummingbird! But, since when do hummingbirds attack people? Upon closer inspection, the tiny winged creature was a moth that looked like a hummingbird. And apparently, it thought my shirt looked like a flower.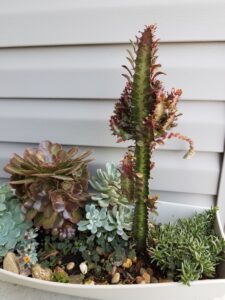 While writing this, two women from a different religion came to the front door to talk about faith and politics. However, they got sidetracked from their mission. We spent ten minutes talking about the African Milk Plant that lives in the shelter of our front porch. They departed after a lively discussion about gardening, their original purpose forgotten. Later my husband said that before they rang the doorbell, they snapped a photo of the room-size rose bush in our front yard.
Methinks that peace might reign in the world if we all tended gardens. To delight in overnight garden miracles, to bless one another with flowers and vegetables, to trade gardening tips for the next growing season. These things are real and close to the earth. They ground us in the goodness and glory of God.
"Flowers always make people better, happier, and more helpful;
they are sunshine, food and medicine for the soul."  –Luther Burbank.