Potatoes on Good Friday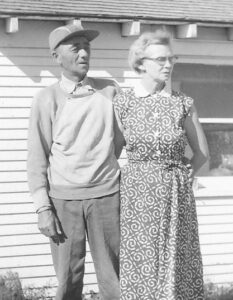 Dad always planted potatoes on Good Friday. It was a tradition passed down in his family. A tradition he kept no matter what, even though his family was Christian, but he didn't go to church. Even though, he lived by the Golden Rule and Ten Commandments, but sometimes forgot to come home from the bar.
One cloudy, cold Good Friday Dad came into the house and announced it was time to plant the potatoes. Mom frowned as she looked out the kitchen window, which was splatted with cold raindrops.
We'd set out teacups, along with a little box of red, blue, green and yellow dye to color Easter eggs. She had punched the bread dough down and formed a pan full of buns that rose on the counter with yeasty fragrance.
Usually, Dad drifted along with life, but he was firm about planting potatoes on Good Friday, so Mom took off her apron.
We eased down the wooden steps into the dirt cellar under the kitchen. The potatoes were kept in a bin in the corner. There were just enough spuds to feed us until the summer crop came in. Dad and Mom filled their bucket with the ones that had sprouted "eyes."
Back in the kitchen, Dad stepped to the window and peered out, maybe seeing how cold and wet it was for the first time. Then he went to Plan B, deciding to only plant a couple hills of spuds. They'd seed the rest of the crop when the ground fully thawed.
We drove to a field south of the farm buildings and got out. The damp chilly air passed through our woolen coats like a ghost through a wall. My teeth chattered with cold.
I watched as Dad scooped out a couple holes in the hard, dank earth. Mom sliced some potatoes with a knife, making sure there was an eye in every piece.
I didn't dare ask the questions that burned in my heart. What if the sprouts didn't grow? It seemed dumb to bury perfectly good food. And why, for Pete's sake, did we have to plant potatoes on Good Friday no matter what the weather?
My job was to bend over the holes and push in the potatoes, eyes up. Then, Dad solemnly shoveled dirt over each hill.
Dad's been gone now for over fifty years, and I'm only beginning to understand why he found it urgent to bury potato seed on Good Friday.
For us, potatoes were the staff of life, like bread or rice are in other cultures. To bury them was an act of trust that new life would burst from them, multiplying the seed.
Certainly, Dad's desire to plant potatoes on Good Friday was a veiled clue to his beliefs. It was his way of showing that he believed in the hope found in Jesus Christ.
"Jesus replied, "I must fall and die like a kernel of wheat that falls into the furrows of the earth. Unless I die I will be alone—a single seed. But my death will produce many new wheat kernels—a plentiful harvest of new lives.' John 12:24 The Living Bible