A Most Embarrassing Phone Call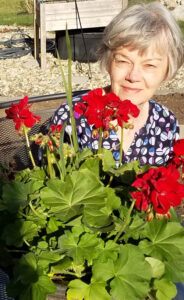 On one of my first trips to Bismarck Public Library, probably late in 1970, I checked out What I'm Going to do I Think. It was a new release, written by a North Dakota author with a funny last name.
My reading standards were quite high. Apparently higher than my emotional IQ. And so after I finished the book I sent the author a letter and told him I didn't like his book.
Months later, on Memorial Day to be exact, the phone rang at 5 a.m. Now, my father had just undergone cancer surgery and he wasn't doing so well. Certainly, the phone jangling in the predawn could only mean my brother was calling with bad news.
Instead, the voice on the other side of the line said, "Hi. I'm Larry Woiwode and I want to know why you don't like my book!"
I stood by the open screen door, where flashes of lightning filled the western horizon, the wheels in my head turning slowly.
It took me a full minute to figure out the phone call wasn't about my father, but about a cheeky letter I had written months before. The next 45 minutes were rather awkward as I tried to articulate my views of the now forgotten book, while wearing my jammies and watching gusts of wind and rain blow down the street.
Years later, Woiwode (pronounced why-would-he) told me more about his side of that phone call. He'd been at a cabin in Wisconsin working on his upcoming novel, Beyond the Bedroom Wall. He got back to New York City late and stayed up reading a stack of fan mail. He hoped to hear from someone, anyone, in his home state of North Dakota. That someone was me.
Oh, the power of words to kill or to heal. Woiwode had won the William Faulkner award for that book. He wrote for the New Yorker. He was buddies with Robert De Niro, for Pete's sake. However, what I wrote mattered to him. What I said was a real letdown for him.
Still, Woiwode tactfully gave me some writing encouragement in that phone call. He said to forget going to college to study writing. Instead, read up on it. That summer, I read 38 books on writing. One of his most interesting pieces of advice was to do the Readers Digest Word Power quiz every month. I still do.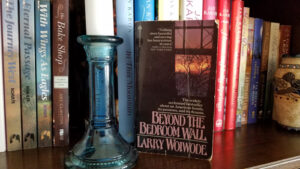 A few years later, my now widowed mother was in Washington, D.C. with some of her siblings. As they strolled down a street, they passed a bookshop. A new book called Beyond the Bedroom Wall was displayed in the window and they all went in and bought copies.
I almost exploded when I realized it was the book Woiwode had just finished writing the morning he called me. I still have Mom's copy. The book sold over a million copies, and was a finalist for both the National Book Award and it was the National Book Critics Circle.
Over his lifetime, Larry Woiwode chose a path less traveled. Although he continued to write (26 books), he gave up his New York lifestyle, embraced Christianity, and moved to a farm in a windswept part of North Dakota. He became the state's Poet Laureate in 1995, continued to write, and taught at colleges and universities until his death April 28, 2022.
In the end, I ignored his advice about college and went for my bachelor's degree. However, over the years, I sat in on several of his book readings and found them stimulating and instructive. He continues to influence my writing.
But equally important, because of that phone call, I see stories as an extension of the author, a piece of the heart, a glimpse of the soul. So, when doing reviews, I try to be tender with truth and generous with encouragement.
Thank you, Larry Woiwode. Your passion for the written word lives on in the hearts and souls of many, including mine.
Woiwode is among my many favorite authors. Do you have a favorite author or two? Please let me know!
"Rejoice always, pray continually, give thanks in all circumstances; for this is God's will for you in Christ Jesus." I Thessalonians 5:16-18. NIV
Writing Update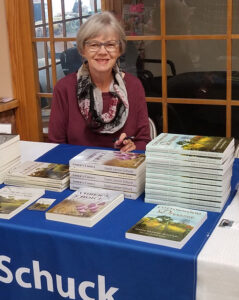 All four of my books are available online in eBook and paperback, and at bookstores in North Dakota. If a store is out, they're usually willing to order copies for you.
These days, instead of writing, I'm collecting past blog posts into a manuscript. Reading old posts is a reminder of how exciting it was to launch this blog seven years ago. And the jitters I had about signing books in my hometown. Emotions over holiday stories and moments of inspiration from my garden bring smiles and tears.
With Memorial Day right around the corner, I wish you a blessed, sunny, adventure-filled summer.
Offering hope, inspiration and a dose of wisdom in a good read.