Home
New July 2019: Amber's Choice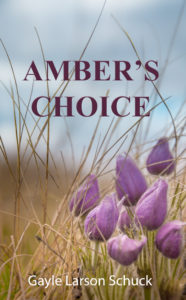 Amber McLean is anything but reckless. She's driven to excel in her career, be a dutiful daughter and sensible big sister, and she likes to have control of her life. Then, she meets Kelly Jorgenson, the young pastor at Cottonwood Creek, and they fall in love. Amber's heart calls her to risk a new life with Kelly, but will her logic let her?
While Kelly longs for Amber to be his bride and ministry partner, is he willing to settle for a part-time marriage? As Amber's career path accelerates, will the promise of financial security come with strings attached? What will happen to her dream of living near Cottonwood Creek? A calamitous series of events leads to a surprising conclusion.
Read it on your Nook, Kindle or other device.
The Rainbow Shop Parable Book Store, Bismarck ND
Barnes & Noble, Southridge Centre, Bismarck, ND
Bismarck-Mandan CVB, Bismarck ND
Zandbroz Variety Store, Fargo, ND
Barnes & Noble, Fargo, ND
RSVP Dakota Store and at Frontier Village, Jamestown, ND
Western Edge Books, Medora, ND
LaMoure Drug Store, LaMoure, ND
Frontier Village Dakota Gift Store