About
Gayle Larson Schuck is a North Dakota native. A graduate of Bismarck State College and the University of Mary, she worked in public information and development for 28 years. When she isn't plotting her next scene, Gayle enjoys gardening, reading and outdoor adventures with her family. She has taught adult Christian ed classes for over 30 years, and is a member of Dakota Writers and American Christian Fiction Writers. 
Author Interview  
Where did you get the idea for your most recent book?
My uncle spent 20 years researching and writing the family history. He documented a series of disturbing secrets that my grandmother and her siblings took to their graves. I began to wonder what she had gone through. What she thought. How she felt.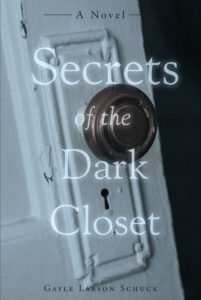 Who is the main character in Secrets of the Dark Closet?
Bessie Kloubec. She turned 11 the year her family fell apart. She had a question that many of us ask: A person goes through life making one choice after another. How can you tell if a choice will take you down a road you don't want to go? That is one of the themes in the book.
How did you come up with the name of the book?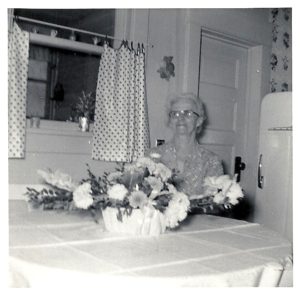 There is a photo of Bessie sitting at her kitchen table when she was in her 70s. A bouquet of flowers sits before her and the door to the storage closet is behind her. For some unknown reason it was called the Dark Closet. It became a symbol to me of all the secrets she hid in her heart.
What are you currently working on?
Right now I'm swept up in publishing Secrets, but the sequel to By the Banks of Cottonwood Creek is underway. I'd love to wrap that up. The sequel focuses on Kelly Jorgenson's sweetheart, Amber McLean. The working title is Amber's Choice.
What is the best thing about being a writer?
There are moments when a sentence becomes rich with meaning far beyond what I originally imagined. Sometimes characters take on a life of their own and drive the story. Also, I love connecting with readers through the Prairie Lighthouse blog, as well as through the books. 
What's your advice for aspiring writers?
The publishing world is changing a lot, so there are many new opportunities. Educate yourself. Read books on writing. Take classes. Join a writers group, either in person or online. Write every day. Embrace constructive criticism. Commit your work to the Lord and see what happens.
Do you have a life motto or theme?
The Peanuts characters are profound. One of Snoopy's sayings was, "Keep looking up…that's the secret of life." That is the secret of life, to keep our eyes on the Lord and trust him.
My special writing verse is, "Be confident of this very thing, that He who began a good work in you will complete it until the day of Christ Jesus." Philippians 1: 6